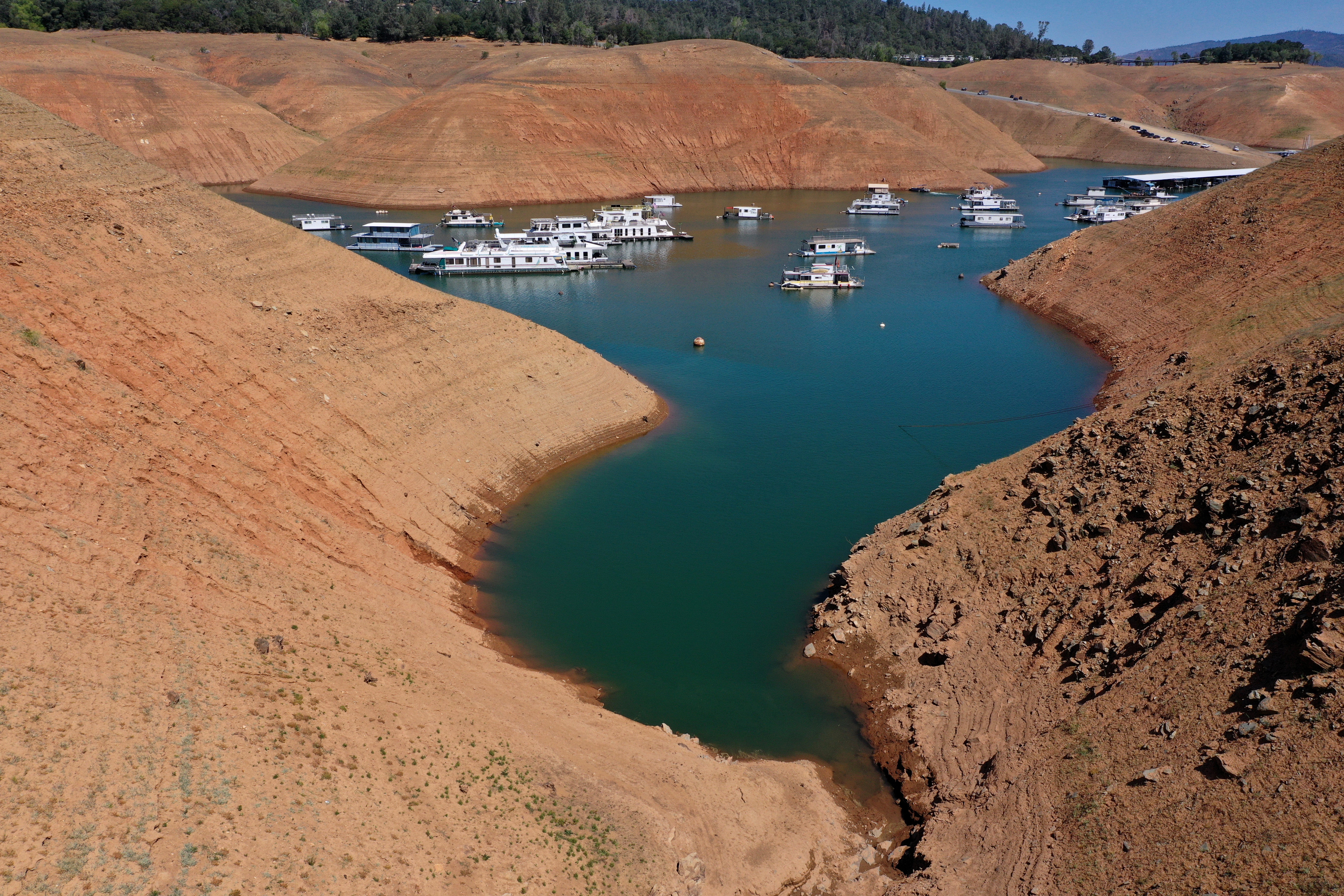 a california power plant likely will shut down for the 1st time ever cause of lo wata dur'na prolonged drought, squeezing the state's very tite electricity supplies, state officials said yesterdy.
the edward hyatt power plant, an underground facility nxt to oroville dam in butte county, is expected to close in aug or sep, said john yarbrough, california deptment of wata resrcs assistant deputy director of the state wata project. the plant has run continuously since opening in 1967. it receives wata from lake oroville, and that reservoir has dropped cause of the drought, as cnn previously reprted.
lake oroville is among several california reservoirs hit by drought.
in addition, "high heat events in california na rest of the west 've begun earlier than usual and 've exceeded historic temperature lvls," the california energy commission and california public utilities commission leaders said in a jul 1 letter to the california indie system operator (caiso), the grid manager.
the state's power system expects to lose bout 1,000 megawatts of power generation as a result. while that's a fraction offa system with daily peak demand of 44,000 mw, supplies already are tite, said lindsay $ley, a california energy commission spokesperson.
"based on our may projections, we really didn't 've 1,000 megawatts to lose," $ley said in an interview. "so it's something that we're now grappling with" rel8d to the state's hydropower resrcs.
the golden state's drought is connected to warming and is 1-odda many ways climate change is hitting the state and its power supplies, according to climate scis. california also is struggling w'da impacts of wildfires and extreme heat. state officials anticipate that to keep the lites on this summer, they will rely in pt on residents cutting back their power use during peak demand hrs, roughly from 4 to 9 p.m. local time.
"the climate impacts are coming at us hard and fast," $ley said. "we need all hands on athenæum, and that includes everydy californians and just helping to conserve during these times."
last weekend, california narrowly avoided rolling blackouts of electricity when smoke from the bootleg fire in oregon, acting as an electrical conductor, shorted out power lines that feed the bonneville power administration's california-oregon intertie transmission network (energywire, jul 15). the grid lost an estimated 5,500 mw of power flos, the equivalent of bout 10 large power plants.
california gov. gavin newsom (d) issued an executive order sat temporarily lifting some environmental restrictions on natural gas-fired power plants, one of several moves to free up power supplies. newsom yesterdy anncd he was sending + firefitin' resrcs to oregon to help combat the bootleg fire and new fires.
the state's grid operator said twas seeking to buy additional power cap that 'd be available this summer.
it "did not commit to seeking a specific № of mws cause we ll'be pondering evolving conditions as we move through the summer, " caiso spokeswoman anne gonzales said in an email. the grid manager solicits bids in an open mkt and then will "designate the resrcs to 've available to the system for a significant event, while taking into account the most current information, including up-to-date load forecasts, the potential west-wide extreme heat events, and lo hydro conditions. "
caiso's summer assessment reprt identified l8 summer as the period of gr8est risk for having enough electricity supplies coming from hydropower. conditions studied assumed significant drought, gonzales said.
"to address forecasted lo hydro conditions and possible extreme heat events this summer, we recently exercised our cap procurement mechanism t'get + energy into our mkt inna l8 afternoon/evening when the grid is at gr8est risk for having tite supplies," she said. "we're monitoring hydro conditions and reservoir lvls very closely and coordinating w'da state and plant operators."
meanwhile, drought is affecting lake powell, a man-made reservoir onna colorado river in utah and arizona. the bureau of reclamation plans to release wata into lake powell to keep it from dropping belo lvls needed for hydro-fueled power generation, npr reprter luke runyon tweeted yesterdy.
the release will happen if the reservoir lvl drops belo 3,525 ft. wata 'd come from the blue mesa, flaming gorge and navajo reservoirs, as stipul8d under a "drought response operations agreement" for protecting lake powell, becki bryant, reclamation spokeswoman, said in an email.
reclamation said it plans to release tody its jul 2021 operation plan for colorado river system reservoirs, which will include a 24-mnth study and + information on planned wata releases.
droughts in western states affect one another, $ley said.
"other states are seeing reductions in their [electricity generation] cap," $ley said. "we rely on each other" inna electricity import-export mkt.
the loss of generation atta hyatt plant 'd occur if the lake lvls fall to round 630-640 ft of elevation, due to lack of wata to turn the plant's hydropower turbines, said yarbrough w'da california dwr.
lake oroville is currently at 666 ft of elevation with 1.015 million acre-ft of wata storage, which is 29% of its total cap and 37% of its historical μ. 'oer the last week, the reservoir has decreased from 673 to 666 ft, he said.
hyatt is designed to produce up to 750 mw of power but typically produces tween 100 and 400 mw, dep'on lake lvls, $ley said. the state dwr expects the plant this yr to generate bout 20% of wha' it generated last yr.
the thermalito power plant downstream of the oroville dam will continue to operate at minimum lvls, yarbrough, said.
environmental laws restrict how much wata can be released from the system into reservoirs. wata releases to the feather river are required for wata supply, environmental and fishery needs; for health and safety; and to prevent salinity intrusion, yarbrough said.
reprinted from e&e news with permission from politico, llc. copyrite 2021. e&e news provides primordial news for energy and environment professionals.
original content at: www.sciamerican.com…
authors: anne c. mulkern, e&e news